Powder Coating Services in Grand Prairie, TX
Xtreme Powder Coating is your source for professional powder coating services in Grand Prairie, TX. We create durable, seamless and vivid finishes for just about any type of metal and are proud to serve the needs of customers in the Grand Prairie area.
Quality Powder Coating
When you want to take any metal surface and make it more visually appealing,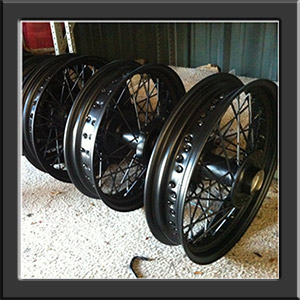 pay a visit to Xtreme Power Coating in Grand Prairie TX. Since 2003 we have provided powder coating services in Grand Prairie, TX that bring our customers' furniture, iron fences and decorative metal pieces to life. Powder coat finishing transforms dull, worn out metal and gives it a bold, beautiful sheen that passersby won't be able to help but notice. Prepare for compliments once your metal décor receives a powder coat finish make over. When it comes to powder coating services in Grand Prairie, TX, no one else comes close to Xtreme Powder Coating.
Not only does Xtreme Powder Coating offer some of the most attractive metal finishing in Grand Prairie, TX, but we also make your metal décor and products more likely to last throughout the years. By finishing your metal with an Xtrenme powder coat, you are adding a durable layer of material to the surface that will help keep it together year after year. Powder coat is long lasting and resistant to scratches and stains, so you can be sure that your metal surfaces will stay looking their best throughout all those years. At Xtreme Powder Coating, we take extra care to ensure that our customers are well informed about the benefits that powder coating services has to offer. Contact us today! Take a look at just a few of the reasons we're considered to be a top powder coating company in Grand Prairie, TX:
We utilize media blasting preparation techniques to ensure a long lasting finish.
We are a second generation, family owned business.
We are an accredited member of the BBB with an A Plus rating.
We offer free price quotes to new and returning customers.
We use environmentally friendly finishes for industrial, commercial, automotive, architectural and consumer purposes.
Service Areas
We offer commercial and industrial powder coating services to the following cities:
Irving, TX
Arlington, TX
Euless, TX
Duncanville, TX
Bedford, TX
Cedar Hill, TX
Hurst, TX
Dallas, TX
Colleyville, TX
Highland Park, TX
DeSoto, TX
University Park, TX
Farmers Branch, TX
Grapevine, TX
Richland Hills, TX